Start vegan with us into the new year 2024!

Of course, we do without fireworks because of environmental and animal protection. Also all four-legged guests are welcome as always and will be able to celebrate a relaxed festival with us except for isolated bangers from neighbors.
In our restaurant place to V you can enjoy lunch from 12am to 2pm and from 2 to 5pm coffee & cakes to keep your New Year's resolutions.
From 5 to 8pm you can start the evening with drinks, board games and good conversations.
In the salon we show the classic "Dinner for One".
Our vegan New Year's Eve buffet for 69€ per person (children: 0 - 6 years free, 7-12 years: 29€) excluding drinks takes place in our winter garden from 7 to 9.30pm .
The evening will be accompanied musically by Konstantin Kopenhagen with finest piano sounds.
Included in the price is a glass of sparkling wine to toast at midnight, as well as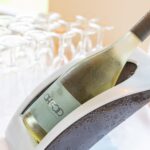 a midnight snack. We accept reservations for the buffet between 7 to 8.30pm . There will be no dinner á la carte on this special evening.
Our service ends at 2am.
You want to say goodbye to the year in a mindful and relaxed way? Then take part in our evening meditation under the roof of the castle.
If you prefer to work up a sweat you can use our sauna area until 0 o'clock or the gym 24/7.
We will also be happy to chill a bottle of sparkling wine or champagne for you, which we will bring to your room at your desired time. You can choose between our ahead secco for 25€, en vie champagne brut for 99€ or an en vie champagne rosé for 99€.
The morning after:
Our relaxed New Year's breakfast is waiting for you from 8am to 12pm and check-out can be done on 1st and 2nd January also until 12pm.
You need more time? We also offer an optional late check-out until 6pm for only 35€.
The early risers can participate in New Year's yoga to get the body and mind going again.
Do you have special wishes for your stay? We will be happy to personalize your time with us.
Over New Year's Eve a minimum stay of 5 nights is required. Single rooms can be booked already from 2 nights.
Feel free to contact us - we will be happy to create your successful New Year's Eve stay.